Is "soy" making our children into homose-xuals? Is soy deadly?
(Health)
Soy - a danger to your health?

Is SOY to blame for a large increase in Homosexuals?
Did you know that an infant who is fed soy formula is getting the estrogenic equivalent of 5 birth control pills a day? Nearly half of all bottle fed babies in the U.S. receive soy formula...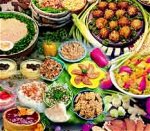 picture of some soy products

Scientists now are finding that Soy is feminizing, and commonly leads to sexual confusion and homosexuality. That's why most of the medical (not socio-spiritual) blame for today's rise in homosexuality must fall upon the rise in soy formula and other soy products. (Most babies are bottle-fed during some part of their infancy, and over one-fourth of them are getting soy milk!)

Homosexuals often argue that their homosexuality is inborn because "I can't remember a time when I wasn't homosexual." No, homosexuality is always deviant. But now many of them can truthfully say that they can't remember a time when excess estrogen wasn't influencing them.

In additional to soy probably being related to the "homos-exual epidemic", it has been shown that eating two or more servings of tofu a week can accelerate brain aging, leading to lower cognitive function later in life.

Soy linked to breast cancer. A study in 1996 found that women who ate soy protein had an increased risk of developing epithelial hyperplasia, an early form of malignancy.

When picked fresh, soy beans are highly toxic. They aren't safe to eat. Harsh chemicals and acid baths are needed to get rid of the toxins. And many additives including MSG needs to be added to soy to improve the taste. These can't be healthy.

Read more about this link to Homosexuality & other health problems associated with Soy:

Read: "Soy is making kids gay" at World Net Daily:
http://www.wnd.com/news/article.asp?ARTICLE_ID=53327

Learn more about this scourge of homosexuality here:
http://BibleProbe.com/homosexuality.htm
---
Complete thread:
Is "soy" making our children into homose-xuals? Is soy deadly?

- bibleprobe, 04.28.2010