"Christian Witch Doctor" Leads Many to Christ
(general)
Gospel for Asia
For Immediate Release

Witch doctors are common in Asian societies.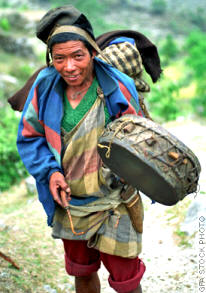 [GFA stock photo]

BIHAR, INDIA (ANS) -- The people in Priya Mistry's village knew her as the "Christian witch doctor." They didn't fully understand that the source of her healing power didn't come from the same source her father used. Instead, it came from God.

Slowly, people became more aware of her ministry as one by one all the sick people who had gone to her father to be healed started coming to her.
Priya grew up in an animistic family. Her father was the village witch doctor, known to be an expert in healing people. But for all his greatness, his powers were ineffective in healing his own family.

For years Priya watched her father heal sick people even as her own health deteriorated. She continued to get worse as no amount of animal sacrifices could appease the evil spirits her father served in hopes of curing her.

It wasn't until the spirit of God touched Priya that she was healed from years of sickness.

She received a Bible from Jai, but Priya had no way of understanding the words written before her because she was illiterate.

Priya first heard the Word of God at one of the small meetings Gospel for Asia missionary Jai Parkash Mandal arranged in her village in Bihar. It was during one of these meetings when Priya felt compelled to respond to an altar call for the healing of sickness. As Jai prayed for her, the spirit of God coursed through her, healing her instantly. It was then, after seeing the mighty power of God, that she decided to receive Jesus Christ as her Savior and turn her back on all practices of animism and witchcraft.

She told her fellow villagers of her miraculous healing and shared the Gospel with them. She began praying and asking God to heal the sick people around her. And God answered her prayers.

Many people, like this woman in Andhra Pradesh, are delivered from the oppression of witch craft through GFA's missionaries.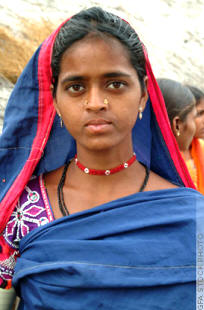 [GFA stock photo]

Slowly, people became more aware of her ministry as one by one all the sick people who had gone to her father to be healed started coming to her. They preferred going to Priya, the "Christian witch doctor," because not only were they getting healed but they felt a divine peace stir within them.

But her father raged with anger when his business dwindled. He fought against his daughter and demanded she stop praying for the people. But Priya wouldn't stop. She wanted others to experience the same encounter she had with Jesus.

Knowing that she would not give up her ministry, Priya's father disowned her and left the village to begin his business elsewhere.

Priya never stopped praying through all this. Her desire to learn God's Word only increased. She received a Bible from Jai, but Priya had no way of understanding the words written before her because she was illiterate. A few of her friends who had gone to school taught her the alphabet, but she still could not read. She started praying to God that He would grant her divine wisdom to understand His Word, and again God answered her prayers. She gradually began learning how to read and now can read the Bible with little difficulty.

Today, Priya continues to lead people from her village from the bondages of witchcraft, and through her ministry many people have received Jesus Christ as their Savior.

Please continue to pray that Priya would be used by God in a powerful way as she moves forward in her ministry with the authority of the Gospel. GFA missionaries like Jai also ask for continued prayers as they preach the Word of God in villages like Priya's.


--

Bihar was once considered the "graveyard of missions."

Read about a former witch doctor whose life was transformed through Christ.

ASSIST News Service (ANS) - PO Box 609, Lake Forest, CA 92609-0609 USA
Visit our web site at: http://www.assistnews.net
Locked thread
---
Complete thread:
"Christian Witch Doctor" Leads Many to Christ

- bibleprobe1, 05.31.2008

(general)