An angel, ghost, demon - appearing at gas station?
(unexplained)
Is this an angel appearing at gas station?
Mysterious blue image has many perplexed
11 November 2007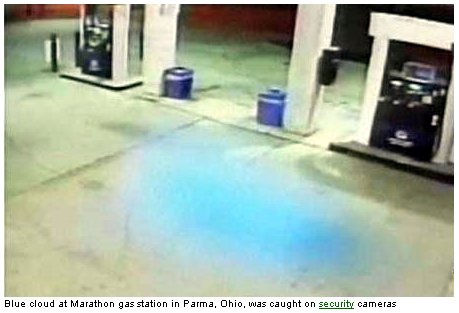 It gives me the chills," one witness said.

"It was an angel," said another. "There was an angel here."

The ethereal image was captured on security cameras Sunday at a Marathon service station in Parma, Ohio. The image is seen flipping and then sitting in the same spot.

"I actually watched it for 30 minutes, and then actually I watched it move and that is when I got freaked out," said station owner Amed Abudaaria.

CNN has the best (larger) video on this. You can see it rising, darting, and floating on their video: here

WKMG-TV has also posted a smaller video and a gallery of still images on its website.

You can see those here: here

Reference: World Net Daily

Christians need to be reminded that "strong delusions" are predicted from these "end times"... See the Daniel 12 prophecy being cracked at another thread here. This was supposed to be "sealed up" until the "end times". So, now we can be pretty certain what period we are in...
---
Complete thread:
An angel, ghost, demon - appearing at gas station?

- bibleprobe, 11.22.2007

(unexplained)