Protecting your Home from Spiritual Darkness
(demons-ghosts)
Protecting your Home from Spiritual Darkness

There is an awful lot of things most Christians need to learn about demons. They can be present in a home due to things like graven images, which can be Hindu items, Buddhist items, Muslim, voodoo, American Indian, occult, witchcraft, freemasonry, pornography, etc. Masonry items are occult. Freemasonry can also be a generational curse.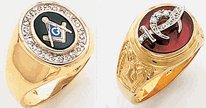 If the object is linked to Freemasonry, Eastern Star, Job's Daughters, Rainbow Girls of DeMolay, or the Shriners, Odd Fellows, Elks, Amaranth, and Daughters of the Nile - get it out of your house, and pray for the release of these members and their descendants. Members of Freemasonry, Eastern Star and the Shriners are often required to take oaths (even to the pagan Muslim god Allah) that actually curse themselves and their families. These members also go through rituals which include pledging allegiance to various deities, which God abhors. Demons can easily attach themselves to items, such as books, rings, aprons, regalia and memorabilia, that represent these societies.

You might be saying to yourself, I saw the "Elks" in your list above. Belonging to these organizations can be compared to the captivity of the Jews in Babylon. They all take secret oaths. And, any organization which speaks of any sort of divine benefit, including eternal life, due to our own good deeds (as Masons do) is in error. It takes nothing more than reading Ephesians 2:8-9 to see that membership in any organization denying or devaluing the meritorious work of Christ involves confessing a different faith. Not a lodge exists that completely rejects good works as essential for salvation.

Items, including ceramic statues that have been used in pagan ceremonies can also carry evil with them. Some clothes can also. These can invite demons into your home. You invite them in along with these items. If you have any - get rid of them. They can also inhabit a property due to some bad things that happened in the past on the land or in the house. There are generational curses that the Bible warns us about. These can be passed down to you from your relatives to the 3rd or 4th generation afterwards. These can occur if someone in your family was a Freemason, cheated anyone out of their land, or bowed down to a graven image like a statue of Buddha, etc. Read: "Breaking generational curses" here: http://bibleprobe.com/curses.htm

What I do every 6 months or so is my own exorcism on my home. Gather your family (or by yourself if alone). Together say the Lord's prayer. Then specifically say "We ask the Lord to remove all sins that ever happened in this house or on this land. We plead that Jesus' blood removes all evil from this house and this land." Then take any oil, even olive oil. Pray over the oil and ask that the Lord Jesus makes this "anointing oil" holy. Dip your finger in the oil and make the sign of the cross with the oil next to all windows, and on all doors while saying something like; "I place this here in the Holy Name of the Father, the Lord Jesus, and the Holy Spirit, to protect this house and everyone in it from all evil."

Christians need to know that it is only through the holy name of Jesus that we have the authority to expel demonic forces. Unless we have a personal relationship with Jesus (saved), we cannot use His name for this. Living with spiritual darkness here on earth is one thing. But living in utter and complete darkness with no hope of life for all eternity because you rejected the Son of God is a much bigger thing. Only the blood of Jesus (Yeshua) can save you from such an awful fate. Secure your own salvation now, by turning from your sin, believe in the death and resurrection of Jesus, and receive Jesus as your personal Lord and Savior.

May the Lord Jesus bless you all and your homes.

RECOMMENDED READING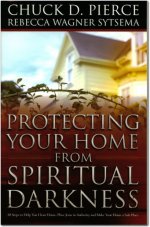 This is a small 106-page book I highly recommend you get, even from Amazon.com. It is entitled; "Protecting Your Home from Spiritual Darkness" by Chuck D. Pierce & Rebecca Wagner Sytsema.

Learn how to rid your home of destructive objects and spiritual darkness to create a fortress of love and light for your family. Too many Christians are completely unaware of how the enemy has gained access to their homes through what they own. This practical, easy-to-read book shows you how to pray through your home and property in order to lock out evil and experience a richer spiritual life.

With Protecting Your Home from Spiritual Darkness, you're just 10 steps away from bringing freedom and security in Christ to your home!

Includes the Following Sections and More:
- A Step-by-Step Guide to Praying Through Your Home
- Understanding Spiritual Darkness
- How to Protect Your Children
- Learning to Overthrow Generational Curses


See at Amazon.com: here

Link to Amazon is only for convenience. You may find it cheaper elsewhere.
---
Complete thread:
Protecting your Home from Spiritual Darkness

- bibleprobe, 03.18.2007

(demons-ghosts)